ABOUT
The Premier Tennis Facility in Beaumont
The Beaumont Municipal Tennis Complex is managed and operated by the City of Beaumont Parks and Recreation. We strive to make this the premier tennis facility in Beaumont and a destination for tennis enthusiasts across Southeast Texas. With 20 outdoor courts, 4 covered indoor courts and 8 pickleball courts there is plenty to satisfy all tennis and pickleball enthusiasts' needs. It is our goal to enhance the playing experience for all players from the beginner to advanced level. We offer a multitude of tennis services from, classes for adult and juniors from beginners to advanced players, private lessons, ball machine rentals, drop in play, leagues, tournaments, social events, and a full array of pro shop products, lockers, showers, lounge, and a racquet technician who will string and repair your equipment. We have experienced, USPTA, USPTR and PPR certified staff who are excited about helping with your tennis and pickleball needs. We are also home to numerous men's, women's, mixed and senior teams competing in USTA and USPTA league play. Stop by today for a tour of the facility.
MANAGEMENT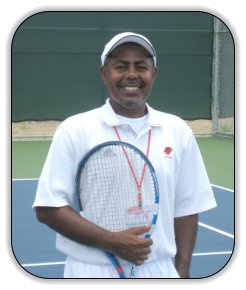 Russell L. Grogan Sr., Tennis Facility Manger
Russell Grogan Sr. is a Beaumont native with over 25 years of experience as tennis professional. He serves as Tennis Facility Manager for the Beaumont Tennis Center in Beaumont, Texas and Head Pro/Owner of NeXXplayer Tennis Academy (www.nptacademy.com), based in Beaumont, Texas. His coaching accomplishments include serving as an assistant coach for Lamar University where he helped coach the Lady Cardinals to a Southland Conference tournament bid in 2005. Russell has developed TAAPS high school State Singles and Doubles Champions, NCAA All Americans, Conference Champions, USTA State and Nationally ranked players, as well as Satellite/Future aspiring professional players. His students have earned spots on top NCAA Division I, II, and III colleges.
Russell is currently an Elite USPTA Certified Pro, USPTR Certified Pro, MTMCA Tester/Certified Pro (Oscar Wegner New Modern Methodology Teaching System), ICI Certified Pro/Competitive Coach (Sanchez-Casal Spanish Tennis Teaching System), and USNTA Certified Pro. He makes a strong emphasis on mastering proper efficient fundamentals, discipline and good work ethic. He motivates players to succeed on and off the tennis courts, while teaching in a fun, relaxed and positive environment. Russell is looking forward to helping people learn how to play like the pros. Imagine you playing like the pros!
Russell is a Graduate of Lamar University.